Special issue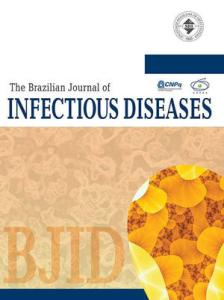 This article is part of special issue:
Vol. 25. Issue S1
12° Congresso Paulista de Infectologia
More info
Full Text
Introdução: As infecções por K. pneumoniae produtora de KPC (KPC‐KP) têm sido associadas a taxas de mortalidade que de 40% a 80%. O sequencing type‐(ST) 16 foi descrito como fator independente para desfecho fatal devido a maior virulência.
Objetivo: Descrever um caso de sucesso de tratamento de infecção de corrente sanguínea (ICS) por K. pneumoniae KPC‐positiva pertencente ao ST‐16 em paciente neutropênica pós transplante de células tronco hematopoiéticas (TCTH).
Metodologia: A identificação microbiológica foi feita por MALDI‐TOF (Biomerieux‐França) a sensibilidade por VITEK (Biomerieux‐França) de acordo com o EUCAST e BrCast e o sequenciamento completo da bactéria pelo método MiSeq IlluminaT (Illumina, San Diego, USA), os genes de resistência pelo programa Resfinder (https://cge.cbs.dtu.dk/services/ResFinder/) e resistência no Virulence Factors of Pathogenic Database.
Resultados: Paciente de 37 anos, com diagnóstico de anemia aplásica associada a Leucemia de Células T, interna para realização de TCTH haploidêntico. No D+1, evoluiu com neutropenia febril, iniciado Piperacilina‐Tazobactam e Teicoplanina. No D+9, novo pico febril associado a quadro de bacteremia, e escalonamento para Meropenem e Vancomicina; K. pneumoniae (sensível à Tigeciclina, Amicacina e Gentamicina; resistente a Meropenem, Colistina) foi identificada na hemocultura de cateter. O cateter foi retirado e iniciada Amicacina e Tigeciclina no D+12. A paciente evoluiu com piora clínica (SOFA de 8) em vigência de neutropenia, sendo encaminhada à UTI D+13. O isolado foi sensível à Ceftazidima/Avibactam (CIM 2/4mg/L) que foi introduzida no D+15 dose de 750mg 8/8 ajustada para função renal. Evoluiu com melhora clínica e laboratorial com 10 dias de tratamento. O sequenciamento genético completo desta cepa de K. pneumoniae, pertencente à cepa ST16, identificou os seguintes genes de resistência blaCTX‐M‐15, blaSHV‐145 e blaKPC‐2 e os genes de virulencia ligados ao locus K, responsáveis por produção de cápsula, os genes reguladores rcsA e rcsB, e os diversos genes responsáveis pela captação externa de ferro (iut, ent, fep, iro).
Discussão/Conclusão: O tratamento de infecções causadas por bactérias multirresistentes vem se mostrando um desafio visto a crescente resistência com limitadas opções terapêuticas. Em isolados de K. pneumoniae, o ST‐16 demonstrou‐se de alta virulência, como fator independente de mortalidade. Descrevemos caso de sucesso de tratamento com ceftazidima‐avibactam em paciente neutropênico com ICS por KPC‐KP ST‐16.