Special issue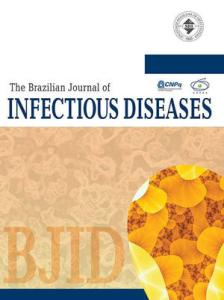 This article is part of special issue:
Vol. 25. Issue S1
12° Congresso Paulista de Infectologia
More info
Full Text
Introdução: A sífilis congênita (SC) é uma doença infecto‐contagiosa causada pela bactéria Treponema pallidum, que pode ser transmitida por via transplacentária ou por contato direto com uma lesão durante o parto. Essa pode ser classificada, clinicamente, em precoce ou tardia, apresentando várias manifestações, como prematuridade e lesões cutâneas, podendo levar ao óbito neonatal. Apesar de ser uma doença evitável, é elevado o número de casos de SC no Brasil, fato que a configura um problema de saúde pública no país. O estado de Alagoas, por sua vez, mostra uma alta prevalência da SC, o que coloca esta região em destaque no contexto epidemiológico, justificando o presente estudo.
Objetivo: Analisar os aspectos epidemiológicos e sociais da SC no estado de Alagoas no período de 2010 a 2019.
Metodologia: Estudo quantitativo, com abordagem descritiva e retrospectiva, efetuado por meio de dados do Sistema de Informação de Agravos de Notificação (SINAN), analisando‐se as variáveis: ano de diagnóstico, idade da criança, escolaridade da mãe, realização de pré‐natal, raça da mãe, tratamento, óbitos e diagnóstico final. Ademais, realizou‐se uma busca na literatura nas bases de dados Google Scholar e Scielo, através dos descritores: "Sífilis congênita" AND "Epidemiologia" AND "Alagoas".
Resultados: Foram constatados 3.429 casos de SC no estado de Alagoas no período analisado, sendo o maior número notificado no ano de 2018 (12,8%). Observou‐se que a maior parte dos acometidos foram diagnosticados na primeira semana de vida (94,7%), o tipo de sífilis congênita recente foi prevalente (90,6%). Quanto ao perfil das genitoras, analisou‐se que a maioria era da raça/parda (85,9%) e possuía escolaridade entre 5ª a 8ª série incompleta (32,4%). Em relação ao pré‐natal, 73,4% das gestantes realizaram o acompanhamento, mas destacou‐se que cerca de 44,7% não fizeram tratamento para a doença, 40,8% obtiveram um tratamento inadequado e foram registrados 38 óbitos (1,1%). Ao comparar os dados com a literatura, verificou‐se que a epidemiologia da doença em Alagoas é semelhante a de outras regiões.
Discussão/Conclusão: Mediante os dados obtidos, notou‐se que, apesar da elevada adesão ao pré‐natal, houve um alto índice de tratamentos inadequados e não realizados, o que aponta falhas na assistência primária e contribui para a maior incidência da SC no estado. Assim, este estudo ratifica a necessidade de potencializar as estratégias de controle e prevenção dessa infecção em Alagoas, com base na compreensão do detalhamento epidemiológico no período analisado.