Special issue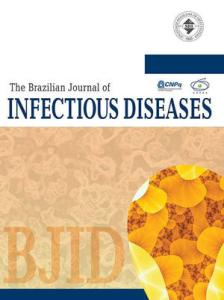 This article is part of special issue:
Vol. 26. Issue S1
More info
Introdução/Objetivo
A escolha apropriada da terapia empírica para infecções urinárias depende do conhecimento dos padrões locais de sensibilidade bacteriana. O objetivo do presente estudo foi avaliar a prevalência e o perfil de sensibilidade antimicrobiana de uropatógenos comunitários e hospitalares observados em cidades da Amazônia Legal.
Métodos
Foram avaliadas todas as espécies bacterianas isoladas em uroculturas analisadas em um laboratório clínico da cidade de São Luís, Maranhão, no período de junho a novembro de 2015 (exames de origem comunitária e hospitalar provenientes de serviços públicos e privados da cidade de São Luís e do interior do estado do Maranhão). A identificação dos microrganismos foi feita através da técnica de MALDI-TOF MS (matrix-assisted laser desorption ionization-time of flight mass spectrometry), e a sensibilidade antimicrobiana foi determinada por sistema automatizado.
Resultados
Um total de 1690 uroculturas positivas foram analisadas, sendo 78,8% de origem comunitária e 21,2% de origem hospitalar. A idade média dos pacientes foi de 43,2 ± 26,3 anos, e 73,8% eram do sexo feminino. Escherichia coli foi a espécie mais frequentemente isolada. A prevalência de bacilos Gram negativos não fermentadores de glicose foi maior entre os pacientes do sexo masculino e entre os de origem hospitalar (p < 0,001). O percentual de resistência das enterobactérias comunitárias foi de 15,2% para ceftriaxone, 29,6% para ciprofloxacino e inferior a 1,5% para carbapenêmicos e amicacina. A prevalência de resistência a ceftriaxone e ciprofloxacino foi maior entre pacientes do sexo masculino (OR (Odds Ratio): 2,62; IC (intervalo de confiança) 95%: 1,98-3,47 e OR: 2,65; IC 95%: 2,04-3,43, respectivamente) e idosos (OR: 2,56; IC 95%: 1,95-3,35 e OR: 2,88; IC 95%: 2,25-3,67, respectivamente). A sensibilidade de Pseudomonas spp. e Acinetobacter spp. a meropenem foi superior a 90%. Maiores níveis de resistência foram encontrados entre as amostras hospitalares; no entanto, a sensibilidade a amicacina foi elevada para a maioria das espécies isoladas de bacilos Gram negativos.
Conclusão
Enterobactérias foram os uropatógenos mais frequentemente isolados. De forma geral, as bactérias isoladas em amostras hospitalares apresentaram níveis mais elevados de resistência. Entre os exames comunitários, ressalta-se a alta resistência das enterobactérias a antibióticos frequentemente utilizados no tratamento das infecções urinárias, como ciprofloxacino e ceftriaxone.
Full text is only aviable in
PDF